"Aaargh! There's too much to do!"
I ran my hand through my hair for the 100th time. I was frustrated. It was the start of the week and I was jotting down the tasks to do just for Monday.
There were 20 items – and counting. They varied from things that had to be done immediately to things that didn't have a deadline to things that had no concrete milestone.
I was exhausted. On top of that, I wasn't getting any meaningful work done. It was just "busy-work".
"There's gotta be a better way," I murmured to myself.
That's where I got searching. I needed to improve my productivity – stat.
I began Googling for what's working for people now. That's when I fell into the productivity rabbit hole. There were heaps of different methods but I noticed something interesting: there were five main productivity problems that people suffered from.
I called them the 5 Evil P's.
As far as I could see, there wasn't one place that covered them all – so I decided to write up this post. To solve these productivity problems, I also go over two proven productivity methods that can thwart the Evil P's.
If you're not a fan of reading, here's an infographic I put together which summarizes the entire article. Read on for more depth.
Let's go straight to the first one…

We know what this one's about. When we most need to knuckle down and get shit done, we freeze. We can't bring ourselves to put pen to paper or finger to keyboard. Time's dripping away and we're losing money.
The solution is simple: do focused work for short bursts of time (sprints) and be consistent with it. That's all.
The two strategies I recommend to defeat poor productivity are the Pomodoro Technique and Seinfeld Method. Here's a quick run down of them below:
The Pomodoro Technique: The Power Of A Ticking Tomato
(Pomodoro is Italian for tomato.)
Francesco Cirillo was struggling to improve his own study habits in the 1980s. In frustration, he turned to the innocent kitchen timer, set it to 25 minutes… and the rest is history.
Fast forward over 35 years and Cirillo has built a global following around his method of boosting productivity. People can become certified trainers and help teams manage and improve their productivity.
How does it work?
Have a concrete goal of what you want to achieve in one run.
Get any kitchen timer – it doesn't have to be a Pomodoro.
Set it to 25 minutes.
Ready… steady… GO!
Maintain absolute focus for the entire time.
Stop only when the timer rings – take a five minute break.
Besides the ability to focus for concentrated segments of time, the added benefit of the Pomodoro technique is that it can be a new unit of time in of itself, which can be used to gauge how efficiently you are using your time.
A software development manager by the name of Theo had this to say about it:
At first I had no idea how long a task would take, not in 25 minute anyway. We are using Scrum at work and I could say that a task would take 2 or 3 hours up to 16 hours. But putting tasks in 25 periods is something I never did or thought of.
What's the advantage of measuring units in Pomodoro vs hours? 16 hours might be the absolute time taken to complete the work but with every Pomodoro unit, you know it contains 25 minutes of focused work.
Therefore for a similar task, if you can cut down on the number of Pomodoro required, you know your productivity is improving.
The Seinfeld Method: Legendary Stand-Up Comedian Shows Us How Its Done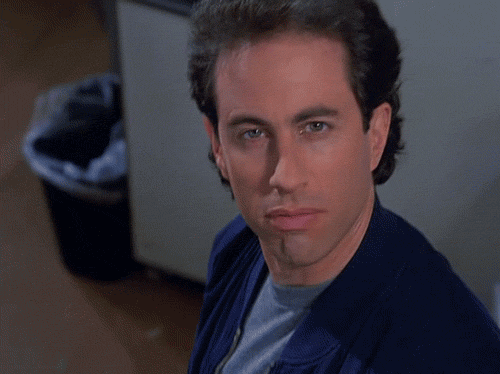 Anyone who's studied productivity has heard about the fabled Seinfeld Method. The problem is no one seems to know the origin of said Method. I did some digging around and found an article on Lifehacker that dates back to 2007.
Turns out in a previous life, Brad Isaac was once a young comic. He was getting his learn on in the trenches, doing stand-up at open mic nights. One fateful evening, he just so happened to be at the same club as Jerry Seinfeld.
Seeing the opportunity, he goes up to him and asks him for some advice – any advice – on how to get better.
That apparently was when the Seinfeld Method became known.
Like all productivity models, it's simple. All he does is write jokes every day without fail. Yep, that's it.
It's simple, but it's not easy. Supposedly what he did to visualize this was get a year calendar, a big, fat, red marker and put crosses on the days that he did his jokes for the day. Sooner or later, he gets a long chain of red crosses.
Here's the secret: the longer the chain becomes, the more you want to make sure it stays unbroken.
We work harder to protect something from being lost than to gain something new. At the beginning of a new habit, we might be doing it to try and gain something: knowledge, speed, fitness, etc. This gets tough. We want to throw in the towel.
By focusing on the Seinfeld Method and growing that chain, we suddenly have something that we want to protect. What we originally set out to gain becomes a secondary by-product of wanting to protect the chain.
Seinfeld Method in Tech
Duolingo: this is an app that I stumbled upon one day. A mate of mine was learning Irish (of all languages, I know) and I decided to check out how he was doing it. He was using Duolingo.
The premise is simple: do lessons revolving around certain topics (family, questions, food, etc). Each lesson is about 17 or 18 questions long.
The questions are pretty quick-fire: fill in the gaps, match up the right words, speak the sentence into the phone.
I started French and my chain is 400 days long as of today. Here's a screenshot.
I must admit, my French is still n'est pas bon but I'm so stuck in the routine I can't imagine not doing it anymore.
IDoneThis.com: this is a cloud-based, Software as a Service that started off as an idea based on the Seinfeld Method. It's now being used by over 160,000 people.
The premise behind it is simple: through daily check-ins and progress reports, teams are able to keep track of who has done what for the day and subsequently also know how productive they are as well as whether they're on track.
An extra bit of advice: don't bite off more than you can chew. This method works if you keep what you do small.
BJ Fogg, PhD is the director at Persuasive Tech Lab out of Stanford and runs tinyhabits.com which, as the name suggests, helps people establish small, new habits.
In behaviour design, Fogg says, "Daily habits are powerful. In fact, daily habits are the most powerful of all behaviors."
The task is straightforward: to transform into a productivity machine, create a daily habit – but make it count.

Procrastination is the enemy of progress. It's something we're all familiar with. We let little things creep in and steal our time. We give in to small temptations and end up losing more than we bargained for.
It sucks.
The solution for procrastination is to be aware of when you're doing it. Nip the problem in the bud before it grows out of control. Here are the techniques you could use to stop procrastinating.
The To Don't List: The Opposite Of A To Do List
We all know what a To Do list is. A To Don't list is exactly as it sounds: it's a list of things you don't want to do.
We're always looking for we can get more things done. Sometimes the secret is just doing less and only doing the right things.
The To Don't List helps you eliminate time wasting activities so that you are only what matters.
It might seem silly putting together a list of things you don't want to do, but the way it works best is by listing down time wasting activities that you are doing.
You could either go about your day and at the end write down everything you did. The problem with this is that you could forget what you do or leave things out.
A better way is to have someone who knows you well put together the list for you. They could either tail you and compile the list or interview you.
Eat The Frog: You Don't Want To Do It, But You Have To Do It
"Eat a live frog first thing in the morning and nothing worse will happen to you the rest of the day." – Mark Twain
You can almost imagine the wry, tongue-in-cheek way that Mark Twain would have said the above statement. An accomplished writer, entrepreneur and publisher, Twain wrote the beloved Adventures of Tom Sawyer and its more famous sequel, Adventures of Huckleberry Finn.
Sales legend Brian Tracy refers to the idea of eating your frog his blog, The Truth About Frogs.
This is how Tracy explains it:
Your "frog" is your biggest, most important task, the one you are most likely to procrastinate on if you don't do something about it.
Like most important tasks, it's easier said than done. While most of you reading will never have to literally eat a frog, if faced with the choice of avoiding the biggest, most important task you should be doing and eating a frog, it might be a tougher choice to make than you think.
Otherwise, you would have already done it, right?
Perry Marshall, marketing consultant and writer of the 80/20, talks about listening to his inner procrastinator, who tells him, "why don't you get a haircut instead?" every time he thinks about doing something important.
While eating the frog doesn't have a grid or table you might use like Eisenhower's Matrix or Personal Kanban, it's a powerful strategy in of itself: just do it.
The best way to be productive is to "do productive". (Tweet this)
TIP: think of your procrastinating voice as a separate person – a worse version of yourself that's holding you back. Assign them a voice. Take a photo of yourself if you must. Make it unflattering. Write excuses he/she makes. That's who you're not. You eat frogs. You get shit done.
Running into a pile of work without any plan of attack is productivity suicide. How many times have you tried to get something done then suddenly changed direction to start doing something else, before hopping back to the original task? This happens day in day out and you're exhausted by the end of it all.
The worst thing is that you've barely done anything. Planning is crucial to help you identify an approach that helps you systematically take apart your work and not get stuck switching tasks all the time. These are the strategies I recommend:
Getting Things Done – The "Bible" Of Productivity
Getting Things Done (or GTD for short) is a method of productivity that was created by David Allen in 2001. With over 2,000 customer reviews (and 67% of them being 5 stars), GTD has had a positive impact on people looking to organize themselves and get important things done.
Here are five of the main points of the GTD method that have made it such a success:
Productivity is directly proportional to our ability to relax: the more under pressure we are, the fewer things we can do. If we give ourselves space to relax, we will be able to get more done – and better.
We need to have a "second brain" to help us remember everything: our stream of thought isn't conducive to productivity. When we aren't getting distracted by the world around us, our minds will distract us instead.Use a note taking device to capture it all so we can sift through it and identify what's a distraction and what needs attention.GTD isn't about priorities, milestones or deadlines. GTD is an approach that lives in a dynamic world, where things come up and can impact what we see as important.
It's a reactive approach that doesn't compromise on the quality of the work we're doing at the current point in time.
GTD is a bottom-up approach – it focuses on the specific issues (low level) first, rather than the ultimate goals (high level).The argument here is that long-term planning requires a high level of focus. If you're focused on the ultimate goals but ignoring the specific issues at hand, they will stay front of mind and prevent you from focusing on the goals anyway. GTD addresses these specific issues first.
Feedback loops to improve productivity: When you finish off a section of a project, there are a specific set of GTD Next Actions which show you how to maintain your momentum and finish your project.
The ultimate goal of this is to help you achieve flow, where productivity is peaking, stress is at a minimum and most importantly, you're feeling happy while you're getting important work done.
SMART Method – The Method Everyone Knows
We've all heard of the SMART model. It stands for:
Specific
Measurable
Achievable
Relevant
Time-bound
It was first mentioned in the November 1981 issue of Management Review, by George T. Doran.
A SMART goal forces you to zero in on the metrics that really matter for your goal. Each letter adds another dimension of motivation that puts you on the right path of achieving your goal.
Let's go through an example.
Say you are a university student. You have just moved interstate to study. You are feeling lonely. You want friends.
To apply the SMART model to this, it would look something like:
Specific: have a conversation with at least one new person a day
TIP: why didn't I make my goal, "make one new friend a day?" Two reasons: one, it's hard to define what a friend is. You won't know if you have succeeded if the terms of your goal aren't clear to you. Two: other people decide whether they want to be your friend or not. It's out of your control. Your specific goal should be something that you can control.
Measurable: One conversation.
Achievable: yes, one conversation a day is not difficult.
Relevant: having one conversation a day will eventually help me get more friends
Time-bound: yes, do this every day.
If there is one letter that would be more important than the rest, it would be the S. Having the right "S" makes the other four letters fall into place.
When we've put the time aside to do our important work, we want to make sure that we're at our peak. When all our cylinders are firing, we can get more work done per hour than usual, we're focused and maybe, just maybe, we might even be happy while we're doing it (a crazy idea, I know).
Doing work when we're switched off is useless.
To identify our when we're operating at our peak performance times, I recommend the following strategies:
Biological Prime Time – Our Body's Best Time For Work
It sounds a little bit like a dodgy game show involving anatomy, but it's actually a way to make sure that you only work at your most alert and energized times.
The concept of the Biological Prime Time is derived from studies of the circadian rhythm. The circadian rhythm is a biological process that regulates our "body clock".
It's what makes us feel tired or awake at certain times of the day. External cues like light and temperature can impact this, but it's mostly self-sustained.
As the name suggests, it ebbs and flows; our energy levels and alertness go along with it. In a general sense, we know whether we are a morning or a night person. We feel it.
Our Biological Prime Time is essentially the time of the day where we're the least fatigued and feel the most focused and motivated.
You identify your Biological Prime Time by either:
Approximating it: as mentioned before, after going about our daily lives, we have a general idea what times we operate best.
Tracking it: Chris Bailey is the author of The Productivity Project. He took a year off and spent it using himself as a guinea pig to test productivity strategies.
With the Biological Prime Time, he got up at 6 am and on a scale of one to 10, plotted how his energy, focus and motivation felt. He then repeated this every hour until 9 pm.
After doing this, he joined the dots and got three lines that showed where his energy, focus and motivation were highest.
This is the graph summarising the information:
Interpreting this graph, it looks like in general, all three are trending up from 9 until 11 am. Around lunchtime, it fades a little bit (I know that feeling), before peaking again in the early evening.
Analyzing this, it looks like his Biological Prime Time is around 10 am. If I were him, this is when I would get my best work done.
Personal Kanban – The Japanese Secret Of Maximising Efficiency
Personal Kanban is best if you feel overwhelmed at how many things there are to do.
It was the late 1940s. Taiichi Ohno, an industrial engineer at Toyota trying to find a way to make more cars in the same time frame without sacrificing quality.
He got his inspiration from a totally unrelated industry: FMCG.
What he noticed was that the when customers bought stuff from the supermarket, they would only buy what they need.
In response, the supermarket would only stock the shelves to meet this demand – not any more, or less. This meant that the supermarket was always efficient, never outputting more resources than need be.
Taiichi pondered:
"What if I could apply this process to the factory?"
He created a parallel system that mimicked the supermarket. In a supermarket, a customer buys something, which causes the supermarket to replenish the shelf.
In the factory, the "supermarket" was a specific part of the supply chain, say installing windscreen wipers. The "customers" were the workers, who would take the wipers then install them on the windscreen.
To make sure that the factory was at its most efficient, the workers submitted a Kanban (a card) every time they completed a wiper installation. The benefits of this were two-fold:
The factory only ever ordered enough wipers to account for what they needed, and
The workers' rate of work could be managed based on how many Kanbans were submitted.
This method of productivity management quantified the work that was done and allowed Toyota to streamline its efficiency across all its operations.
How does it to apply to an individual?
You might think that this doesn't really apply to an individual. The amount of work you can do is limited to one unit. How can Kanban be used to make one person more productive?
In the industrial example, windscreen wiper installation was just one process. They have many processes. Maybe hundreds. They might also have hundreds of workers.
With you and me, there's just us. However, we still have a lot of things to do. Maybe hundreds. Our attention is dragged this way and that as we try and do it everything.
We end up frazzled, doing nothing particularly well and feeling rather unproductive.
So how can Personal Kanban rescue us?
On a blank sheet of paper, draw up three columns: to do, doing, done.
Put what you have to do in "to do", only ever have one thing in doing, then after you've done it, put it in "done".
Limit the space you have. Only have three to five items maximum in the "to do" column.
Here's one I drew up to give you a clearer idea:
Personal Kanban forces us to evaluate at two levels: once at the "to do" stage and again at the "doing" stage.
If you only saw three to five things in the "to do" stage, wouldn't you feel like you had more control than if there were a hundred things?
We have 101 things to do at any given time. We have a finite number of hours in a day. We wish that we had multiple copies of ourselves just so we could fit everything in, but we know that isn't going to happen. We have to become expert planners.
By categorising our tasks so we know what's the most crucial, we can stand a chance of getting our most important work done. Here are the strategies I recommend to do this:
The Eisenhower Matrix – One Of History's Most Organized Men's Productivity Secret
Dwight Eisenhower was a man that people feared and respected. He was:
The 34th President of the United States for eight years,
A five-star general of the US Army during WWII,
Supreme Commander of the Allied Forces in Europe, and
Supreme Commander of Nato.
At the height of his powers, Eisenhower made some tough decisions. While in office, he had to keep pressure on the Soviet Union while reducing federal deficits. He was also tasked with concluding the Korean War.
The importance of the choices he would have had to make every day makes our lives seem trivial.
He is credited for the Eisenhower Matrix, a grid that he would have used to identify what were the most important things he had to focus on.
It's surprisingly simple but extremely effective – Here's how it looks: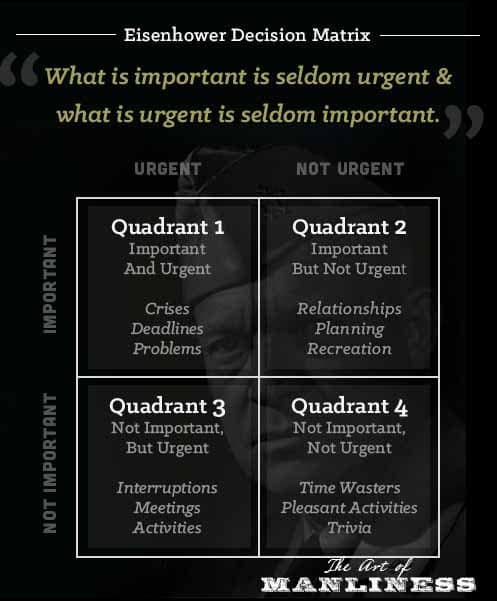 In any one day, we might have several things to work on. However, we only have capacity to focus on one thing. Eisenhower's Matrix helps us identify which thing is the most urgent and important.
TIP: you could use the Eisenhower Matrix and combine it with Personal Kanban. Here's how:
list down all of the tasks you have to do,
In the Eisenhower Matrix, put each task in the sector that feels most right.
Take the Urgent and Important task and place them in the "Doing" column of your Personal Kanban. Everything else will go in the "To Do" column.
Within the "To Do" column, you can put the Not Urgent and Important tasks as next on the list… if you want to maximize your output.
MoSCoW Method – Not The City, But A Productivity Method
No, you're not reading a typo there. The MoSCoW method is written like this so that the word is more memorable
and meaningful. The capitalised letters that give meaning to the acronym stand for Must, Should, Could and Won't.:
Must: A "Must" component must be completed. If it is not, then the project is considered a failure.
Should: A "Should" component is important, but can be sidelined and isn't vital to the function of the minimum viable product.
Could: A "Could" component is less important. It's considered a "nice to have", but won't have a profound impact if it's left out of the product.
Won't: A "Won't" component is the least important. It serves no value add to the product. It will actually weaken it.
When there is a big project with several tasks of differing priorities, MoSCoW is used to allocate varying degrees of priority to each. It is often used in software development teams for this reason.
When there are a limited number of resources, the MoSCoW Method can allow more efficient use of time, money and labor so that a minimum viable product that only has the "Must" parts can be created.